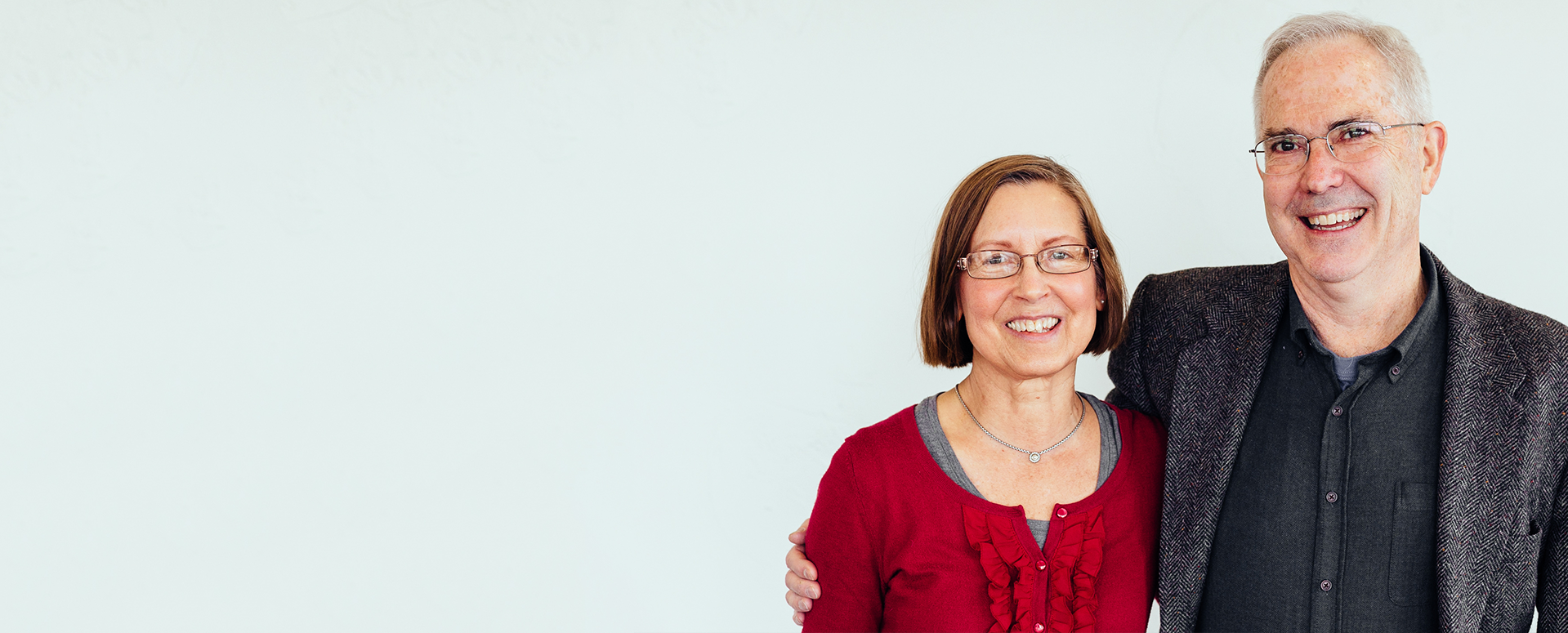 PAT MULCAHY
LEAD PASTOR
Pat's always up for an adventure, whether that means leading the church, visiting far-away places, or especially, following Jesus through this life. He loves helping people know God as the good and loving God that he is. Besides his wife Lisa, four grown children, their spouses, and grandchildren, Pat's favorite things include reading and coffee, preferably together.
LISA MULCAHY
LEAD PASTOR
Lisa feels that every person is fascinating, and really enjoys asking questions in order to discover their story. That's why she likes anything that has to do with connection and assimilation at the church. She's married to Pat and they have four grown children. She loves to read and eat (especially chocolate) simultaneously, and to spend time with their grandchildren.
ADAM ARN
ASSOCIATE PASTOR
Whether it's speaking on Sundays or teaching a new spiritual practice to a small group, Adam loves to create experiences that help others become more aware of God's presence in their everyday lives. He enjoys reading, spending time with his friends and family, exploring the natural world, and writing the occasional haiku. He's married to Kat and has two children, Eli and Mercy.
B.J. Fisher
Worship Pastor
B.J. grew up serving in local church ministry throughout Wisconsin. Him and his wife Brit are wild about their four young children. As a family, they love the outdoors and embrace the beauty of Wisconsin seasons. He loves to write songs from his life and share them with whoever will listen.
Jamie Bertsch
Creative Director
Jamie is a maker. Motivated by her reverence for design and penchant for using her hands as a tool— she finds inspiration in life's simple, nuanced moments. Jamie splits her time between design work, teaching studio art, and soaking up time with her husband Joe, daughter Fiona, and pup Olive.
Things she loves: Winter, dinner parties, candlelight, storytelling, coffee, porch sitting, flowers, fibers, language, poetics, space, comforts of home.
COLLIN SALISBURY
YOUTH PASTOR
Collin has a passion to equip and send youth to be an encouragement to the church and a light to the world through biblically driven teaching and relational investment in students' lives. In his down time Collin enjoys spending time with friends, reading with coffee, music, Sunday drives, and occasionally longboarding by the water.
RHONDA CURRAN
CHILDREN'S Pastor
Rhonda is passionate about helping kids learn how to love and follow Jesus, while making sure to have fun in the process! Rhonda is married to Kevin and they have three children, Tyler, Caleb, and Emma. In her free time, Rhonda enjoys doing anything deemed "fun" and her motto is, "I'll try anything once!" She especially enjoys spending time with her family, playing board games, and cheering on the Packers!
SARA MCGILVRA
ADMINISTRATOR
Sara loves bringing order to chaos. One of the things she loves most about the Vineyard is that she is never bored! Sara is married to Jeff and they have three great kids together: Emma, Jacob, and Miles. Sara enjoys reading Young Adult novels, drinking coffee, and is a spirited sports fan.
VANESSA GOLL
ADMINISTRATIVE ASSISTANT
Vanessa is Sara's assistant and together they make a fabulous team! She helps with many of the behind-the-scenes tasks that keep things here running smoothly. In her free time, Vanessa loves spending time with her husband Brian, their daughter Ellie, and their dog Roxy. She also enjoys crafting, especially scrapbooking!